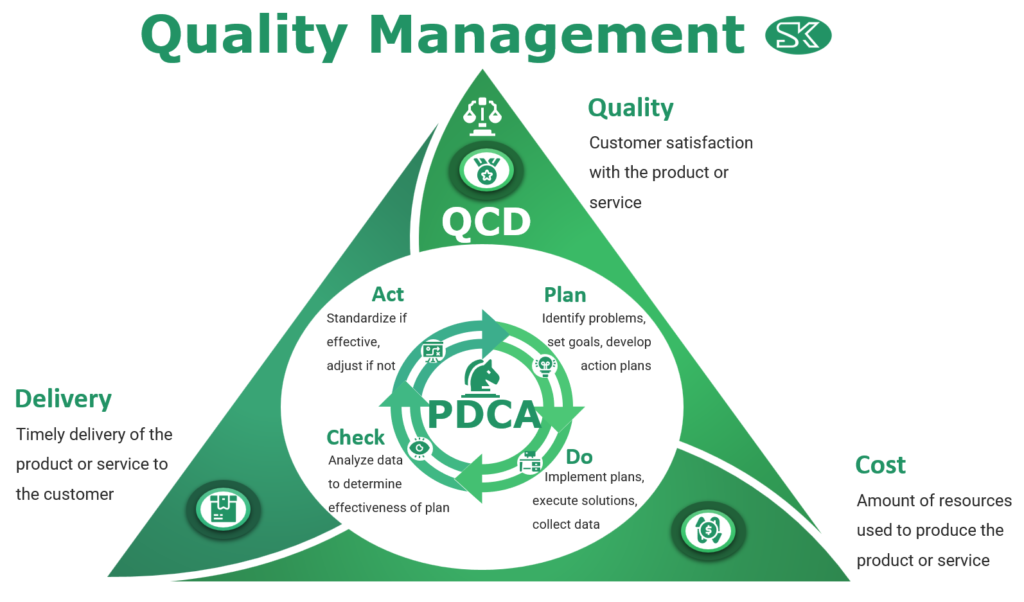 Our quality management approach is based on four steps: plan, do, check, and act. This means that we are constantly evaluating and improving our services and products to ensure our clients receive the best possible experience. We place equal importance on quality, delivery, and cost, striving to strike a balance between all three factors.
At the end of the day, we believe that all aspects of our service are important and must be carefully considered in order to create a truly satisfying experience for our customers.
we will challenge the QMS system with 5M Plus 1E.
as a person(=Human): Workers on involved in the production of products on site
『M』 as Machine :new, updating or improving facility.
『M』 as Method :changes in process operations, working conditions.
『M』 as Material :raw material of product, processed product, material change, packing change or ingredient.
in generally At 4M change points, the risk of product abnormalities and defects increases, so a management method called "4M change management" that grasps and manages change points is emphasized in the production process.
what' more We are challenging Measurement and Education, and also our activities considerate of the environment as 5M+1E.

Measurement:検査・測定
Environment:環境
Plus Education:教育
our characteristics of all of us is that we can move quickly in a changing environment which changing situation

we will in order to strengthen the standardization as education forward 5M Plus 1E and then "enhance what is missing" in various ways and that.
we will continue to improve with the aim of becoming a partner company of choice for our customers.
We are continuing to strengthen the system to manage materials and respond to material shortages. Silicone and fluororubber materials Please contact us from procurement of PVC materials to processing.



We will Import consultation of finished medical products is possible

We also handle imports of finished medical products and inquiries about disposable protective gowns made of PE film with good water repellency for use in medical settings (Disposable Isolation gown).
Please feel free to contact us for a phase quote, such as comparing current prices.