We obtained that Medical manufacturing industry and Medical manufacturing sales industry classⅡ permission in April 2021.
| | |
| --- | --- |
| Trade name | |
| Name with principal functions | |
| place with principal functions | 3-14-2 motoasakusa Taito-ku tokyo,Japan (東京都台東区元浅草3-14-2) |
| Certification Number | Medical device manufacturing industry 13BZ201513 |
| Certification Number | classⅡ medical device manufacturing sales  13B2X10474 |
| Date of certification | April 16, 2021 |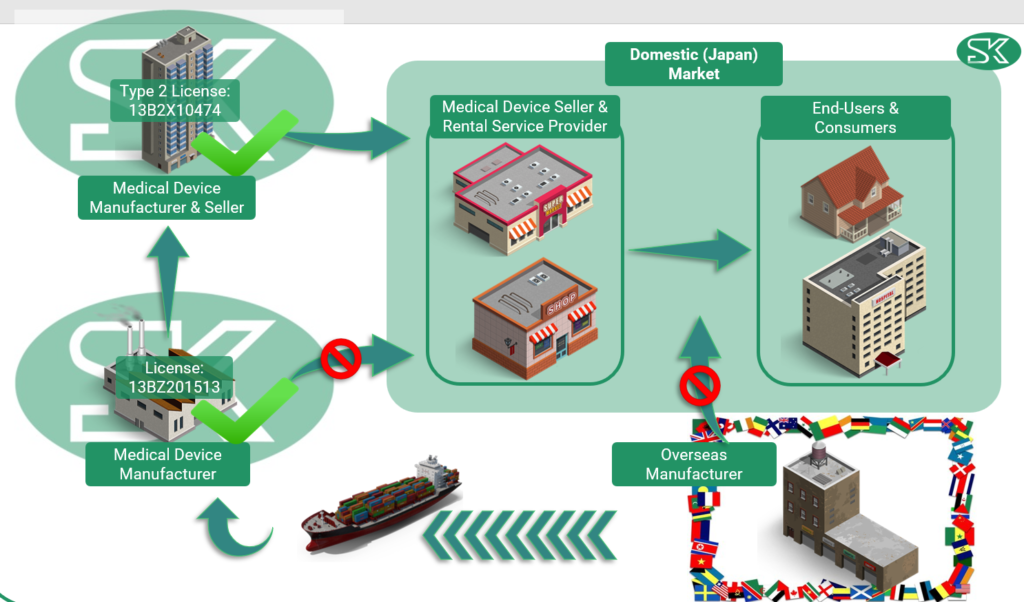 To sell medical items in Japan as an overseas manufacturer, there are specific regulations that need to be followed. First, the items must be shipped to Japan and managed by a licensed medical device manufacturer.

The items will then undergo modification or inspection before being passed on to a licensed medical device seller. The seller is then responsible for offering the medical items to the domestic market through medical device sellers or rental service providers, who will ultimately distribute the items to end-users such as hospitals and clinics.

It is important to note that direct distribution to the Japanese market by an overseas manufacturer or a medical device manufacturer is prohibited. However, SK holds both manufacturing and selling licenses for the Japanese market, specifically a Type 2 license.
This allows us to be support a range of medical device import for our customer's needs.


If you are a distributor from overseas who wants to help Medical institution in Japan with innovative medical devices, please contact us by contact form.
We will continue to work hard to deliver even safer and more reliable products.
We look forward to working with you in the future.
April 2021 SK Co., Ltd.
---